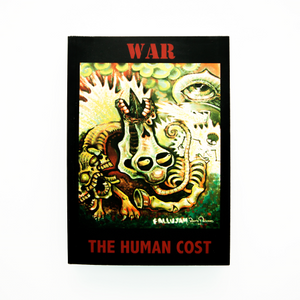 Book - War the Human Cost Graphic Book & CD
Regular price $16.00 Sale
An anthology of comic art relating to war and conflict. Featuring artists from 19 countries, "War - The Human Cost" reveals the realities of conflict and the unethical practices of those who profit from it.
From first hand accounts, through biting satire, to well researched exposés and factual pieces, this anthology joins the dots from the duplicitous political think tanks and arms manufacturers, to warzone and human rights abuses, right through to the refugees and asylum seekers and those who put their lives on the line to end the bloodshed and create peace.
Also features a 19 track accompanying CD.