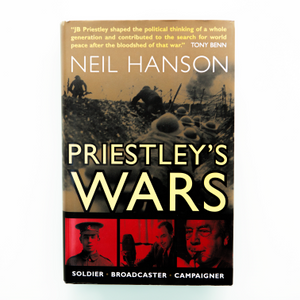 Book - Priestley's Wars
Regular price £18.99 Sale
Priestley's Wars
His letters from the WW1 battlefields; the broadcasts in 1940 that galvanised a nation at war and alarmed the establishment; and his involvement in the formation of CND - this is the fascinating, untold story of J B Priestley's role at the heart of 20th century British history.

By acclaimed historian Neil Hanson.
"JB Priestley shaped the political thinking of a whole generation and contributed to the search for world peace after the bloodshed after that war" - Tony Benn.

Containing previously unpublished letters from the WW1 battlefields, and the "Postscripts" broadcasts that Churchill tried to ban.