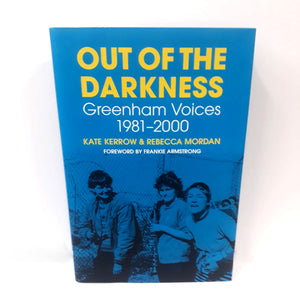 Book - Out of the Darkness: Greenham Voices 1981 - 2000
Regular price £20.00 Sale
Out of the Darkness: Greenham Voices 1981 - 2000

By Kate Kerrow and Rebecca Mordan; foreword by Frankie Armstrong.

Previously undocumented testimonies telling stories of love, laughter, adventure and activism from the Greenham Common Women's Peace Camp.
Published for the 40th anniversary of the original march to Greenham in 1981.
The signicance of the Greenham Common Peace Camp is largely overlooked now, but it was one of the longest political demonstrations in history. Established in 1981 when 36 women from Cardiff marched to an RAF base in Berkshire to protest against nuclear, it grew exponentially - and despite being dismissed as 'an eccentricity' by Margaret Thatcher in 1983 it was to last for twenty years. Across those two decades women of the camp experimented with new ways of living, organising, and effecting change, exempified by the 'Embrace the Base' campaign where 30,000 women were mobilised via chain letter to encircle the base in peaceful protest. The numbers of women, methods and make-up of the camp ebbed and flowed but a singularity of purpose remained. 
Drawing on a unique collection of interviews, scores of unheard voices are gathered together for the first time in print and interwoven with an exploration of the key elements that shaped the movement. The result is a celebration of the army of women who, in liberating themselves, acted as a catalyst for change across multiple fronts and transformed the nature of protest forever.
Hardback.